Jennifer Young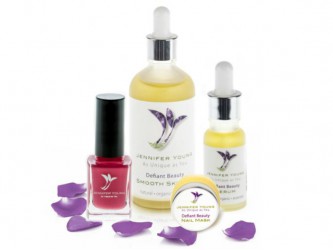 Mooihoofd / Myheadwear / Feel-Better Favourites is reseller of cosmetics of Beauty Despite Cancer by Jennifer YoungTM. These products are especially developed for people undergoing cancer treatment and want to take care of their body with safe products.
All Beauty Despite Cancer products are without phyto-oestrogens (= plant- oestrogens). A few well-known phyto-oestrogens in cosmetics are aloë vera, soy and advocado. The products are packaged in glass containers to prevent leakage of Parabens (hormone disruptor) in the cosmetics. And all products take care of your dry, itchy and sensitive skin. We are proud to sell these cosmetics that make you feel-better.
There are two Jennifer Young ranges we sell: Defiant Beauty (= during cancer treatment) and Beyond Beauty (= after treatment). Both are 100% natural and free from animal testing.

Always consult your medical team before using any cosmetics during cancer treatment, rules and regulations may be different per hospital or ward.
Showing 1 to 27 of 27 (1 Pages)