Scarf-hats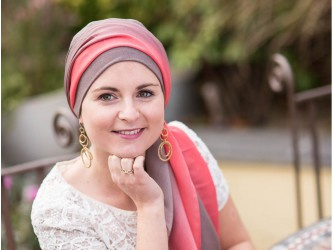 A feminine look thanks to a scarf-hat on your head. A scarf-hat is a hat with a scarf attached to it. The hat makes sure that the combination is well placed on your head. And the scarf gives you a nice volume around your head.

Scarf-hats are made of a multicolored scarf sewed on a comfortable hat. The stitches of the hat are placed on the outside, so no stitches are visible inside, only the seems. The scarf is placed over the hat so the stitches are not visible.
The Top Mano ia a scarf-hat which is pre-knotted. This model is easy for you to put it on and off.

The scarf-hats have a scarf stitched to the hat but are not yet knotted. You have to knot the scarf yourself in the way you like.
For knotting instructions please look in our webshop at the information of the hat, next to the picture in the Tab "Tie-instruction" or look at the video in the next tab. It sometimes takes some practice, but it gives a nice result!

Showing 1 to 46 of 46 (1 Pages)