Headsize measurement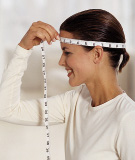 If it's the first time you buy a chemo hat or alopecia headwear. Please measure your head before you order, do it as follows:
Use a measuring tape to measure the circumference. If you don't have one, use a string to determine the circumference and then take the length of the string with a ruler. Take the size at the largest part of your head, from the back to directly above the eyebrows. If you are taking measurements before you'll lose your hair consider that your head circumference will be a bit smaller once your hair is gone.

Do you prefer to wear a hat over the top of your ears (looks often nicer), then also measure over the ears to get the right size. That means a bit lower, than shown on the picture.
48 - 52 cm (18.90 - 20.47 inch) child size (approximately 2 to 8 years), fits also size XS
51 - 53cm (19.69 - 20.87 inch) is a smaller sized head and fits size S, S/M and One size Fits Most
54 - 57cm (21.26 - 22.44 inch) is an average sized head and fits sizes S/M, One Size Fits Most and M/L
58 - 60cm (22.83 - 23.62 inch) is a larger sized head and fits sizes One Size Fits Most, M/L and L
> 59 cm ( > 23.23 inch) man size
Selecting hats on size
Now you know your size, you can browse our hats per size by using the filter in the leftside on our catalog pages.
Tip:
For smaller sized hats the scarf-bands and not pre-folded scarf-hats are often suitable, because by wrapping the scarf you can tighten your headcover.
Look at are comfort chemo headwear, alopecia headwear or headscarfs to find a hat that suits your style.